Yamaha WX-030 MusicCast Wireless Speaker, White/Silver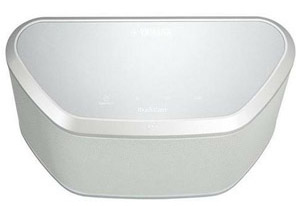 Room-filling Sound, Wireless Freedom
Bring music to every room in your home wirelessly using your existing Wi-Fi network. Start with a single MusicCast speaker and add more over time, or add other MusicCast products like AV receivers and sound bars. MusicCast expands to fit your needs, providing wireless multiroom audio playback controlled by a simple app.
Exceptional sound clarity and deep, rich bass
Access to your music library, Pandora?, Spotify?, Rhapsody? and more
Versatile connectivity – Wi-Fi, Bluetooth?, AirPlay? and Spotify Connect
MusicCast control app for Apple? iOS and Android? devices
Choice of colors: black or white/silver
Features
MusicCast
---
MusicCast makes it easy to bring music to every room in your home wirelessly with playback controlled by a simple app. Start with a single MusicCast wireless speaker then add more throughout the house. Next add a MusicCast capable AV receiver in your main entertainment room for the ultimate home theater experience, sound bars or Hi-Fi components in other rooms wirelessly.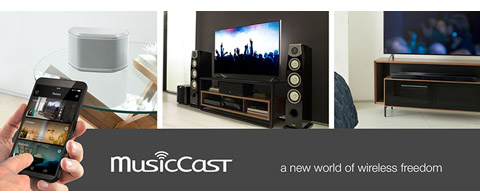 Exceptional Sound Clarity and Deep, Rich Bass
---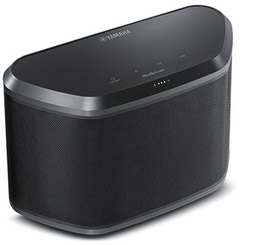 The MusicCast wireless speaker provides exceptional sound clarity thanks to the two-way speaker design coupled with a large passive radiator that enables deep, rich bass to be produced from such a compact unit. The onboard music enhancer smooths out the stretched-out highs and muddled mids associated with over-compressed MP3 files. High-quality formats such as WAV, FLAC and ALAC are also fully supported.
All Your Content
---
MusicCast allows you to access your digital music library, streaming music services, Internet radio and Bluetooth? sources.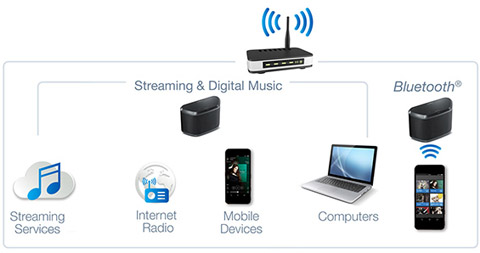 Bluetooth Music Streaming
---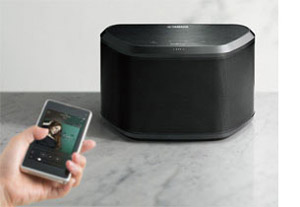 Stream music directly from your smartphone or tablet via Bluetooth or AirPlay?. Use the MusicCast app to pause/play and adjust the volume from your handheld device.
Bluetooth Output for Convenient Music Streaming
---
Equipped with Bluetooth technology, you can stream music from the MusicCast wireless speaker to Bluetooth enabled headphones for private listening or any other compatible speaker.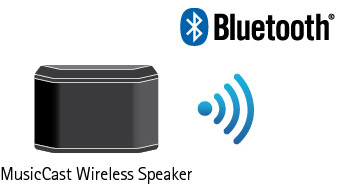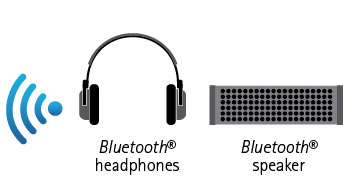 Stereo Pairing Using Two Units
---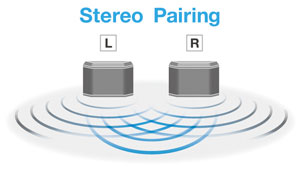 Two WX-030 units can be paired via the MusicCast app to function as left and right channel speakers, providing stereo sound for a wider listening area.
Control at Your Fingertips
---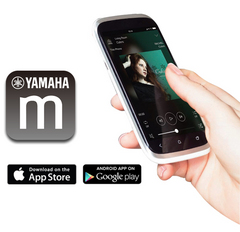 The free MusicCast app puts control of your wireless speaker in the palm of your hand. Use the MusicCast app to operate the speaker and change settings, select your source and control music playback.
Clean Design
The compact and clean design of the MusicCast Wireless Speaker makes it perfect for use in the kitchen, bedside or anywhere space is limited. You can even mount it on a wall with commercially available speaker mounts using the integrated 1/4"-20 threaded mounting hole.
Technology
MusicCast
---

MusicCast makes it easy to bring music to every room in your home wirelessly. Whether you start with a single speaker or the ultimate home theater, MusicCast expands to fit your needs, providing wireless multiroom audio playback controlled by a simple app.
Bluetooth?
---

Bluetooth? is a technology for wireless communication between devices within an area of about 10 meters (33 ft) employing the 2.4 GHz frequency band, a band which can be used without a license.
The Bluetooth? word mark and logos are registered trademarks owned by Bluetooth SIG, Inc.
AirPlay?
---

AirPlay? provides the convenience of wireless music playback from iTunes?, iPod? / iPhone? / iPad? and Mac? or PC.
Wi-Fi CERTIFIED?
---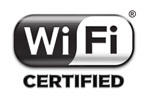 Wi-Fi CERTIFIED products provide the best user experience and carry the Wi-Fi CERTIFIED logo, ensuring products meet industry-agreed requirements for interoperability, security and reliability. Choosing Wi-Fi CERTIFIED products enables you to mix and match devices from different manufacturers without worry. All Wi-Fi CERTIFIED products deliver interoperability and industry standard security.
DLNA Certified?
---

The DLNA Certified? logo ensures that all relevant mandatory formats and features are supported by the products, and confirms interoperability between devices in support of mandatory formats and features.
DLNA Certified is a trademark of the Digital Living Network Alliance.
Pandora?
---

Pandora is the effortless and endless source of personalized music enjoyment and discovery. Personalized stations launch instantly with the simple input of a favorite artist, song, or genre, and we take it from there to provide the soundtrack for that moment... anytime, anywhere.
Rhapsody?
---

Meet your new music collection complete with millions of songs, entire albums and artist hits spanning across the decades. This is more than just Internet radio. This is the power to play exactly the songs you want, wherever you are. Give it a try, sign in and start listening.
SiriusXM Internet Radio
---

SiriusXM Internet Radio delivers a variety of commercial-free music including Pop, Rock, Country, R&B, Hip-Hop, Jazz, Classical and much more, plus expert sports talk and analysis. You also get exclusive entertainment, talk, comedy, family programming, local traffic and weather and news from your most trusted sources.
Spotify Connect
---

With the Spotify app on your smartphone, you have instant access to millions of songs. Now you can stream these songs to your Yamaha networked AV receiver when using Connect by Spotify. Just hit play to start streaming music. Additionally, when you listen to music on your smartphone outside and come inside, the song immediately streams to your AVR. You can also personalize playlists and receive phone calls while listening to music.
Spotify
---

Spotify is all the music you'll ever need with millions of songs instantly available. Just search for the music you love, or let Spotify recommend something great. Spotify works on your phone, tablet, computer and home speakers so you'll always have the perfect soundtrack for whatever you're doing.