The Asus Z170-E motherboard is a great choice for performance users craving quality, performance and features for their new PC build. Based on the Intel Z170 chipset, it supports the latest 6th generation Intel Core processor in LGA 1151 package, and comes with four DDR4 DIMMs and two PCIe x16 slots that support two-way CrossFire/SLI configuration. Designed to get the most potential of your system, the Z170-E incorporates 5-Way Optimization for one-click performance boost, ASUS Pro Clock Technology for extreme overclocking, and 5X Protection II to keep your components safe and sound even in the harshest of conditions. The latest SATA Express port, 32Gbps M.2 port and 10Gbps USB 3.1 Type-C port are built onboard thus you can take full advantage of the latest storage technology. The Crystal Sound 2 design enables audiophile-class sound from a PC system, bringing your music, games and movies to the next level.
Overclock Your Way
One Click Overclock and Cooling, Done!
Get performance, efficiency, digital power, fan control and even networking and audio tuning tailored for you
5-Way Optimization at your disposal it takes just one click to tune complex settings — for instant, highly-controllable performance boosts! Our exclusive technology dynamically optimizes essential aspects of your system based on real-time use, so you get superb CPU performance, everyday energy savings, ultra-stable digital power, cool and quiet fans and even networking and audio settings that are tailored for the apps that you are using. In short, 5-Way Optimization ensures that your PC is perfect for gaming, entertainment, productivity or just about anything else!
Games run swiftly and smoothly with high performance, prioritized bandwidth and vivid sound.
Fans stay whisper-quiet for everyday computing, and ensure extreme cooling efficiency when gaming.
Stutter is eliminated for smooth-running apps, even under heavy loading.
Energy waste is reduced so you'll save money.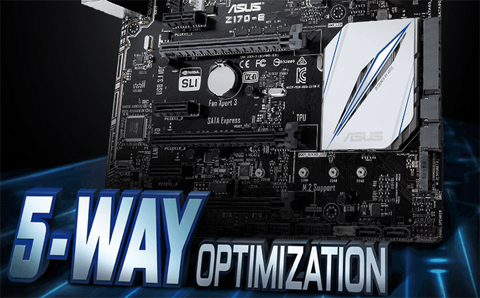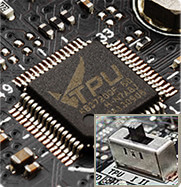 TPU
Unleash your PC's full performance with a simple two-phase onboard switch or the ASUS AI Suite 3 utility! The TurboV Processing Unit (TPU) offers precise voltage control and advanced monitoring for the CPU and the graphics card, enabling great freedom to adjust CPU frequencies and ratios for optimized performance and to exploit the potential out of your graphics card.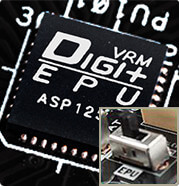 EPU
With the Energy Processing Unit (EPU) you'll enjoy real-time, system-wide power savings. EPU detects and adjusts power consumption according to the PC's needs — automatically. It can also reduce CPU wattage to a set level and deliver even more savings with Away Mode. This creates an extreme energy-saving scenario by shutting down unused extra I/O controllers and reduces the graphics cards' power level while you're away, so the PC consumes only the energy it needs — and not a drop more!
Fan Xpert 3
With thermal sensors and hardware-level 4-pin/3-pin PWM/DC mode detection, Fan Xpert 3 makes sure every fan achieves the best balance of cooling performance and low noise!
Dedicated water-pump header for best water-cooling efficiency.
Auto-Tuning Mode: Scans and detects fan characteristics for single-click customization
Extreme Quiet Mode: Reduces CPU fan speed to below the default minimum, for extra-quiet operation and power savings during light loads.
RPM Fixed Mode: Lowers noise levels to near-0dB silence, allowing you to fix the fan speed.
DIGI+ Power Control
Power control is one of the most essential motherboard designs. Intelligent CPU-power-draw detection with ASUS DIGI+ Power Control is an innovative, industry-leading technology that fully complies with Intel? IMVP8 specifications, increasing overclocking potential, enhancing system stability, and improving power efficiency with superior flexibility and accurate control.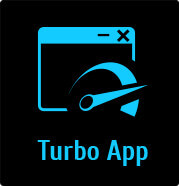 Turbo App
Whether hardcore gamer or business professional, you'll feel the benefit of the ASUS-exclusive Turbo App every day. Its intuitive tuning panel boosts a range of hardware, overclocking your CPU, tuning your fans, prioritizing network data and optimizing audio settings — all with automated ease!
OC Design- ASUS PRO Clock technology
A dedicated base-clock (BCLK) generator designed for 6th-generation Intel? processors that allows overclocked base clock frequencies up to or beyond 400MHz*. This custom solution works in tandem with the ASUS TurboV Processing Unit (TPU), to enhance voltage and base-clock overclocking control — providing an exciting new way to boost performance to extreme heights.
Advantages of ASUS Pro Clock
Reduced boot up time
Lower jitter under extreme conditions for higher overclocks
Increased stability under heavy overclocking
*BCLK overclocking range will vary according to CPU capabilities, cooling, motherboard support and tuning options. Ranges up to 650MHz are possible under select conditions.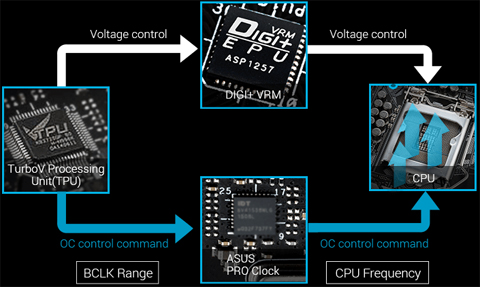 DDR4 Overclocking Strength in Numbers
Second-generation ASUS T-Topology enables DDR4 memory overclocking to reach new heights: over DDR4-3466MHz with all memory slots populated. Featuring a customized trace layout for reduced crosstalk and coupling noise, the second-generation T-Topology ensures time-aligned signal transfer for improved memory stability and compatibility.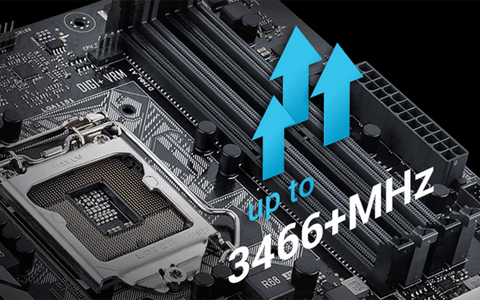 Ultrafast Transfer Speed
Fast storage speed with SATA Express
Current SSDs devour up to 550MB/s bandwidth, which is close to saturation point for SATA 6Gbit/s connections. Backwardly compatible with up to two SATA drives, SATA Express is the next-generation connectivity standard — and ensures that you and your system won't get left behind.
Speed up with onboard M.2 up to 32Gbit/s
With x4 PCI Express 3.0/2.0 bandwidth, M.2 supports up to 32Gbit/s data-transfer speeds. It is the perfect choice for an operating system or application drive, making your whole PC or professional apps work as fast as possible.
Ultimate-speed 10Gbit/s with USB 3.1 Onboard
With one USB 3.1 reversible USB 3.1 Type-C for the very fastest USB connections, you'll experience data-transfer speeds of up to 10Gbit/s — or twice as fast USB 3.0. USB 3.1 is completely backward-compatible with your existing USB devices, and you'll be all set for USB 3.1's breakneck speeds. And ASUS-exclusive USB 3.1 Boost technology automatically accelerates USB 3.1 performance even further!
Media-Acclaimed UEFI BIOS
The smoothest, slickest mouse-controlled graphical BIOS has been improved to make it even more appealing. Whether you're a PC novice or a seasoned overclocker, the EZ and Advanced Modes help you find your way, quickly and easily.
EZ Mode
Intuitive Graphical Fan Control: Fine-tune individual fans simply by dragging a curve with the mouse.
EZ XMP: Improve your DRAM performance with a click.
SATA Information: View SATA port details for easy device recognition.
Fast Clock Adjustment: Use mouse controls to change the time and date.
Advanced Mode
GPU POST: Automatically detect selected ASUS graphics cards to view detailed information.
Secure Erase: Restore your SSDs to factory-fresh condition.
Last Modified Log: Track last change and save preferred profiles onto a USB drive.
SATA Port Renaming: Rename SATA ports for easy identification.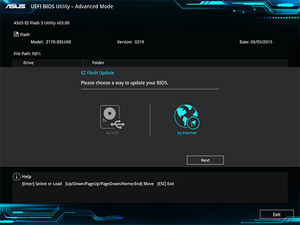 EZ Flash 3
Update the latest BIOS via the internet, and from within the BIOS.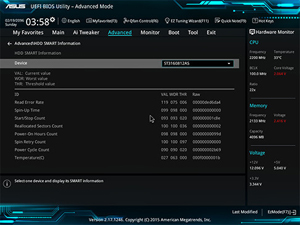 S.M.A.R.T
Check up your storages devices' Self-Monitoring, Analysis, and Reporting Technology (S.M.A.R.T) logs to gauge reliability, and even determine if they're about to fail.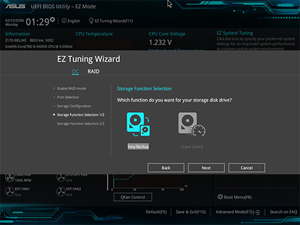 EZ Tuning Wizard– OC and RAID
Select your hardware and apply different scenarios to tune system performance, or streamline your RAID configuration for faster data retrieval and backups!
My Favorites
Quickly find tuning options and add preferred tools to the list.
Game with Confidence
Flawless Audio That Makes You Part of the Game
Noise Isolation
Audio shielding - Ensures precision analog/digital separation and greatly reduced multi-lateral interference.
Separate layer for left and right tracks - Ensures both channels deliver consistent, equal quality.
Audio Enjoyment
Premium Japanese-made audio capacitors - Provides warm, natural, and immersive sound with exceptional clarity and fidelity.
De-pop circuit - Reduces start-up popping noise to all audio outputs.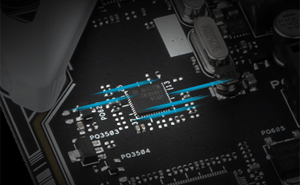 Intel Ethernet
More throughput, less CPU usage and great gaming experiences.
Z170-E features the very latest Intel? Ethernet for faster, smoother gaming — always. Intel's LAN has the serious double advantage of reducing CPU overhead and offering exceptionally high TCP and UDP throughput. This significantly reduces the processor's workload, so there's more power for your game and your gameplay!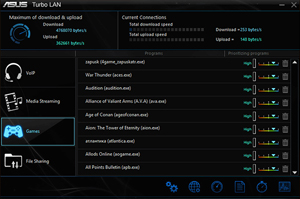 Turbo LAN
Network-optimization software for customizable packet prioritization.
Turbo LAN with cFosSpeed traffic-shaping technology adds even more lag-reducing support and intuitive user interface. It allows you to lower lag with no expert knowledge – by up to 1.45X! If you're a tweaker, use Advanced Mode for hardcore controls.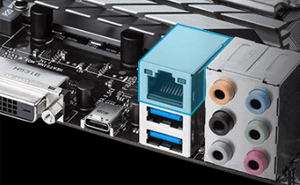 LANGuard
Pumped-up throughput. 2.5X higher surge tolerance.
ASUS LANGuard is hardware-level networking protection that employs signal-coupling technology and premium anti-EMI surface-mounted capacitors ensuring a more reliable connection and better throughput, plus electrostatically-guarded and surge-protected components for greater tolerance to static electricity and improved protection against surges.
Seamless Entertainment
Your Digital PC Hub for Sharing and Home Theater
Media Streamer
Enjoy your PC's multimedia content —anywhere! Pipe music from your PC or cloud storage, including ASUS WebStorage, Dropbox, Google Drive and OneDrive while sipping coffee in a café, or sit back with friends and stream a favorite movie to a smart TV. With ASUS Media Streamer, your entertainment goes wherever you go.
Watch Your Smart Device Content on the Big Screen
HyStream
With HyStream you'll enjoy the ease and freedom of streaming HD content from your supported* Apple iOS smartphone or tablet straight to your bigger screen!
* Contact your device vendor for support information.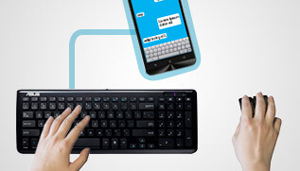 All-in-One Control between Your PC and Smart Device
Mobo Connect
Work with your PC and smart device at the same time through a single keyboard-and-mouse set. A simple hot key lets you switch between your PC and smart device quickly. It even charges your mobile device at the same time.
Extreme Stability
5X Protection II
Industry-leading 5X Protection II employs the finest components, excellent circuit design, and exacting standards to guarantee quality and long-term durability of your motherboard with all-round protection. For you, that means exceptional protection and stability for your build — the result of decades of engineering experience from the world's leading motherboard brand.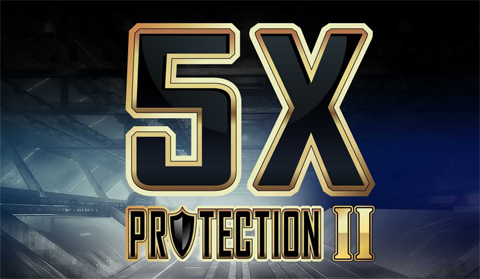 LANGuard
Pumped-up throughput. 2.5X higher surge tolerance.
ASUS LANGuard is hardware-level networking protection that employs signal-coupling technology and premium anti-EMI surface-mounted capacitors ensuring a more reliable connection and better throughput, plus electrostatically-guarded and surge-protected components for greater tolerance to static electricity and improved protection against surges.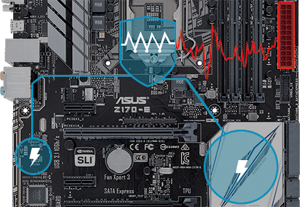 Overvoltage Protection
World-class circuit-protecting power Design
An exclusive circuit design with built-in voltage regulators to protect your motherboard from damage caused by unexpected high-level voltages from unstable or inferior power supplies.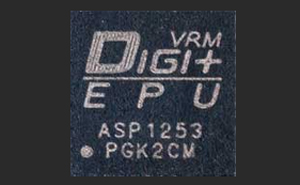 DIGI+ VRM
Precision control for stable power!
ASUS-exclusive DIGI+ VRM intelligently delivers power to the processor based on real-time demands, reducing energy waste and improving system stability.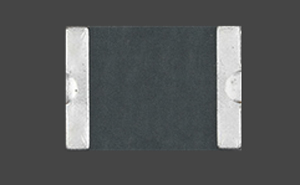 DRAM Overcurrent Protection
Short-circuit damage prevention
Onboard resettable fuses prevent overcurrent and short-circuit damage. This extends beyond I/O ports to DRAM to safeguard the lifespan of both your system and connected devices.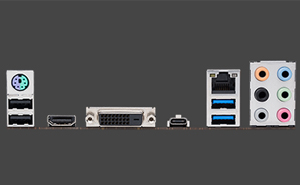 Stainless-Steel Back I/O
3X corrosion-resistance for greater durability
Corrosion-resistant stainless steel back I/O panels bonded with chromium oxide have a lifespan that's three times (3X) longer than ordinary panels.
ESD Guards
Electrostatic discharge protection
ASUS ESD Guards prevent damage from electrostatic discharge, up to +/- 10kV for air discharge and +/-15kV for contact discharge, arranged in an active-protective-circuit design that prolongs the life of components.
Easy PC DIY
You will love DIY!
We understand how you use your PC. From assembly, system setting and monitoring, and to firmware and hardware updates — we're all about making your life easier. That's why we never stop developing new and exciting DIY opportunities to make PC DIY easy, fun and free from hassle!
CPU Installation Kit
Three-step simplicity and safety
One mistake during fitting could damage your processor or socket — but not with the ASUS CPU Installation Kit. Just pop your CPU in the special tool, insert the tool directly into the CPU socket, close the latches positions and you're good to go!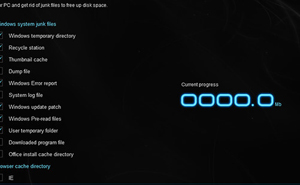 PC Cleaner
Work faster, start quicker and smoother
Your computer is running slow? PC Cleaner cleans up unused and unwanted files and programs that take up spaces in your storage drives, eliminating the clog It also accelerates PC start-up with a click!
Q-DIMM
Easy memory removal
Even if you work with a smaller case, just push down on the one-sided clip and push or pull RAM modules in or out – couldn't be simpler!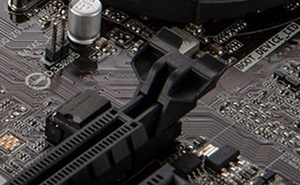 Q-Slot
Effortless PCI Express component removal
The large winged clip is easy to reach and easy to operate. Just press the Q-Slot clip lightly, and graphics card just pop out. Installing or removing even the biggest graphics cards is no sweat!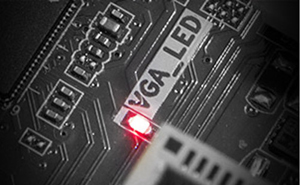 Q-LED
Easy PC diagnostics
Q-LED indicates problems with the CPU, memory, graphics card or boot device, so you can quickly diagnose and remedy any issues — and wave goodbye to endless frustrations!