NETGEAR AC1200 Smart WiFi Router with External Antennas
The NETGEAR AC1200 Smart WiFi Router with External Antennas is an incredibly fast router delivering AC1200 WiFi and Gigabit Ethernet speeds. External antennas provide improved WiFi coverage for larger homes. This router offers 3x faster speed than similar 802.11n and more reliable streaming for mobile phones and tablets. It delivers the speed and reliability needed for applications such as lag-free multiple HD video streaming, multi-player gaming, ultra-fast speed and a secure and reliable connection to the Internet. The AC1200 Smart WiFi Router with External Antennas also includes NETGEAR genie? home network manager for easy installation and home network management.
Compatible with next generation WiFi devices and backward compatible with 802.11 a/b/g/n devices, it enables HD streaming throughout your home. With up to 300+867 Mbps? speed and simultaneous dual band WiFi technology, it avoids wireless interference, ensuring top WiFi speeds and reliable connections. These technologies also provide ultimate connectivity for dual band wireless devices like iPad? and iPhone5?. The 880 MHz processor delivers high-performance connectivity, while the USB 2.0 port provides wireless access and sharing of USB hard drives.
Performance & Use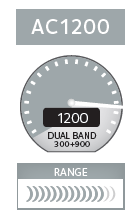 AC1200 WiFi—300+867 Mbps? speeds
External antennas for improved WiFi coverage
Ideal for homes with 8 or more WiFi devices
NETGEAR genie? App—Enjoy more of your connected home
The NETGEAR Difference - R6200
880 MHz processor delivers high-performance connectivity
USB 2.0 port—Wirelessly access & share USB hard drive
Connectivity for dual band WiFi devices like iPad?/iPhone5?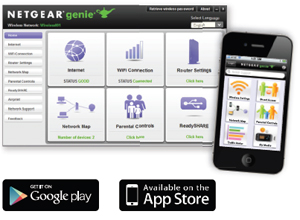 NETGEAR genie? Home Networking Simplified
Home network manager
Turbo Transfer—Share files within your home network between PC, Mac? or Android?
Makes any printer AirPrint? compatible to print from an iPad? or iPhone?
MyMedia?—Find and play media files in your network
EZ Mobile Connect—Scan QR code to connect to your home network
For PC, Mac?, iPhone?, iPad?, & Android? devices
Speed
Speed makes HD video better. Speed makes online gaming awesome. Speed makes all your devices really go. And anyplace you need speed, with NETGEAR you got it. Extreme download speeds up to 300+867 Mbps. Next generation 11ac WiFi with dual band technology providing whole home coverage with Gigabit wired and wireless connection. Everything you need for a fast, fast, fast connected home.
Ultimate WiFi Speed

AC1200 WIFI—Up to 300+867 Mbps?
GIGABIT WIRED-Ideal for HD gaming & video
WiFi Range
Homes come in all shapes and sizes. The NETGEAR AC1200 Smart WiFi Router with External Antennas provides WiFi connectivity throughout your home for all your Internet-enabled devices
Ultimate WiFi Range

BETTER RANGE—Wireless coverage for large homes
Sharing
Relive memories and share them with others. Find photos, videos and music stored on a shared USB hard drive and enjoy them on your DLNA TV right from your couch. If it's secure and shared storage access you want NETGEAR has easy ways to do it.
Share & stream your movies, music, photos
DLNA?—Find & play your media on DLNA TVs & game consoles
READYSHARE? USB ACCESS—Wirelessly access & share USB hard drive via one (1) USB 2.0 port
ReadySHARE? PRINTER—Wirelessly access & share a USB printer
Reliable Connections
Stay connected—with your devices, your media, and your friends. Simultaneous dual band WiFi provides two separate WiFi networks—2.4GHz for legacy devices and 5GHz which is less interference-prone for media streaming. The advanced QoS technology provides higher priority for media streaming application for smoother HD video streaming and low-latency online gaming.
Enjoy high-performance connectivity throughout your home
SIMULTANEOUS DUAL BAND—Reduces interference for better connections to more WiFi devices

ADVANCED QoS—Optimized for smooth HD streaming & gaming
Ease Of Use
NETGEAR makes it easy to do more with your digital devices. Manage your network with genie? App— a personal, icon-based dashboard that can control and monitor all your devices. Or, use Push 'N' Connect to add devices to your WiFi network with a push of a button. And the simple browser-based installation with no CD makes router installation easy using an iPad, tablet, smartphone, or computer.
Simple network management

EASY INSTALL—Easy setup for iPad?, tablets, smartphones & computers

NETGEAR GENIE? APP—Personal dashboard to monitor, control & repair your home network

PUSH 'N' CONNECT—Easy push button WiFi connections (WPS)
Security
Keep your Internet browsing experience safe and secure with the free parental controls. It allows you to limit access to certain web sites at certain times. For example no social networking or gaming site access after dinner time. Guest networks create a completely separate WiFi network for your guests' devices, ensuring they do not have access to your home network or to the shared USB hard drive with all your personal data. Secure WiFi connections offer the highest level of WPA/WPA2 security.
Safeguard your network

PARENTAL CONTROLS—Web filtering for all your connected devices
GUEST NETWORK ACCESS—Separate & secure access for guests
SECURE WIFI CONNECTIONS—Highest level wireless security with WPA/WPA2
Applications
With the AC1200 Smart WiFi Router create a powerful home network for applications such as lag-free multiple HD streaming, multi-player online gaming, ultra-fast, reliable connection to the Internet and a secure wireless connection.
Ideal uses

EMAIL, CHAT, SURF, MUSIC, VIDEO—Enjoy a fast, reliable and secure wireless connection to the Internet

ONLINE GAMING—Optimized for multi-player with no lags
HD STREAMING—Enjoy high-quality HD streaming

MULTIPLE HD STREAMING—Optimized for a smooth, lag-free multiple HD streaming experience
Connection Diagram