Linksys Max-Stream AC2600 MU-MIMO Gigabit Wi-Fi Router
3x faster connection speeds than traditional Wi-Fi*
4x4 wireless-AC technology delivers four data streams at up to 2.53 Gbps**
MU-MIMO technology simultaneously handles multiple devices on your network
Supercharged 1.4 GHz dual core processor ideal for lag-free online gaming
Four Gigabit Ethernet ports
USB 3.0 and eSATA/USB 2.0 ports for network sharing
Linksys Smart Wi-Fi lets you control your network from anywhere
Track all your connected devices with Network Map
What is MU-MIMO?
Max-Stream MU-MIMO Delivers 3x Faster* Wi-Fi Speeds
The Linksys Max-Stream AC2600 MU-MIMO Gigabit Wi-Fi Router (EA8500) is the ultimate solution for multi-device households. Breakthrough MU-MIMO technology delivers 3x faster* Wi-Fi speeds to everyone and everything on your busy network, allowing multiple users to simultaneously stream movies, play games online, and browse the Internet without lag or buffering.
Thanks to Qualcomm MU | EFX, the Max-Stream AC2600 Router can target multiple devices at the same time to relieve heavy network traffic. It's like having an individual router dedicated to each of your devices.
MU-MIMO Broadcasting Technology Optimized for Multiple Users
In today's data-intensive multimedia environments, more and more households and offices require a router that can support high-speed connections to multiple devices at once. Thanks to Qualcomm MU-MIMO technology, the Linksys Max-Stream AC2600 Router meets this demand.
MU-MIMO builds upon existing broadcasting principles--such as spatial multiplexing and beamforming--to deliver a higher overall throughput for today's multi-device networks. The result is a fast, fairly distributed connection across all of your devices. With MU-MIMO, you'll be able to simultaneously stream HD video on a Smart TV, download large files onto your smartphone, and engage in other data-intensive tasks without experiencing latency on any of your devices.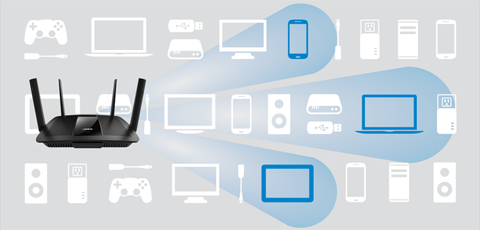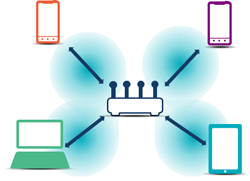 Transmits Streams to Up to Four Devices
Most routers use SU-MIMO, a technology that transmits multiple spatial streams to a client device. However, SU-MIMO can only hone in on a single device at once, resulting in a huge amount of wasted router capacity.
By contrast, MU-MIMO allows the Linksys Max-Stream AC2600 Router to transmit spatial streams to up to three different devices at once. By taking advantage of the router's multiple antennas, MU-MIMO can instantly measure the time it takes for its three client devices to receive data. Once it has acquired a picture of its environment, it uses the router's beamforming technology to send a stream directly to the four targeted devices, delivering just the amount of bandwidth that's needed.
Dramatically Increases Total Network Throughput
Because it gives each of your devices a dedicated spatial stream, MU-MIMO helps ensure your devices won't have to compete for bandwidth. It's like having a dedicated router for each of your devices.
Qualcomm's MU-MIMO system is also highly adaptable. By using sophisticated grouping and scheduling algorithms, it can assign priorities to devices that are generating the most traffic. This helps the router distribute bandwidth more equitably, ensuring each of your devices gets the fastest connection possible.
Built for the Next Generation of Smart Devices
MU-MIMO is already becoming the next major enhancement in the world of Wi-Fi. It has been optimized for client devices that have lower antenna counts, ensuring you get the most out of your smartphones, tablets, or USB Wi-Fi adapters. And as more and more devices adopt the 802.11ac specification, MU-MIMO will be able to pass on higher connection speeds to an increasing number of users.
More Linksys Max-Stream AC2600 Features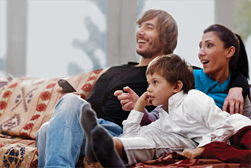 Supercharged 4x4 Dual-Band Wireless Speeds up to 2.53 Gbps**
With four dedicated data streams per band delivering simultaneous content at speeds up to 2.53 Gbps**. You'll be able to take advantage of faster downloads and HD video streaming to multiple household devices without annoying buffering.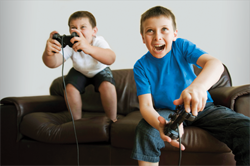 Blazing-Fast Wired Speeds with 1.4 GHz Dual Core Processor
Equipped with a 1.4 GHz dual core processor, the Linksys Max-Stream AC2600 Router offers the cutting-edge speeds you need for lag-free gaming, online movie streaming, and mobile device viewing.
Beamforming Focuses Wi-Fi to Each Device on Your Network
The Max-Stream AC2600 Router uses Beamforming technology to send focused Wi-Fi signals to devices on your network, improving the wireless signal throughout your home. Four adjustable antennas on the router direct signal flow, so you can enjoy fast connections on all of your devices.
Faster Wired Speeds with USB 3.0, eSATA, and Gigabit Ethernet Ports
For expedient networking, this router is equipped with four Gigabit Ethernet ports that boast speeds 10 times faster than Fast Ethernet. A USB 3.0 port allows you to add external storage devices for sharing content across your network or a printer for the office. The Max-Stream AC2600 Router also features an eSATA port, which can serve as a USB 2.0 port, to support external SATA devices.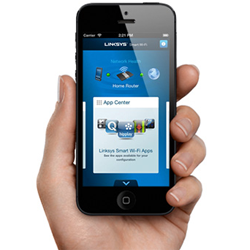 Control Your Network Anywhere with Linksys Smart Wi-Fi
Monitor and control your home network anytime, anywhere with Linksys Smart Wi-Fi software. Using a Web browser or the Smart Wi-Fi mobile app, you can set parental controls to restrict Internet access at certain times of the day, create unique Wi-Fi passwords for guests, monitor and add devices on your home network, check your upload and download speeds, and prioritize bandwidth usage for your devices to reduce lag time and buffering when streaming media or gaming online.
Keep Tabs on All Your Connected Devices with Network Map
The Max-Stream AC2600 Router utilizes the Linksys Network Map tool when using your Smart Wi-Fi account. Network Map offers a visual overview of all the connected devices on your network, letting you monitor each device's online status, signal strength, and bandwidth usage. You can even give each of your devices personalized names for easy identification.
*Three or more 1x1 MU-MIMO-enabled client devices must be connected to achieve the three (3) times faster physical data rate.
**The standard transmission rates--600 Mbps or 1733 Mbps (for 5 GHz), 800 Mbps (for 2.4 GHz), 54 Mbps, and 11 Mbps--are the physical data rates. Actual data throughput will be lower and may depend on the mix of wireless products used and external factors.
Package Contents
Linksys Max-Stream AC2600 MU-MIMO Gigabit Wi-Fi Router (EA8500), quick start guide, four detachable antennas, Ethernet cable, power adapter, and CD-ROM with documentation.