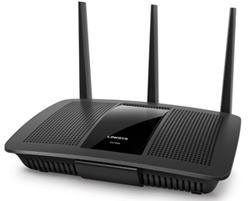 Linksys MAX-STREAM AC1900 Multi User-MIMO Wi-Fi Router (EA7500)
Delivers Next-Gen AC Wi-Fi in homes with 12+ devices
Dual bands with combined speeds of up to 1.9 Gbps
Four Gigabit Ethernet ports and USB 3.0 for fast wired connections
Beamforming technology focuses Wi-Fi signals to each device
Exclusive Smart Wi-Fi app for monitoring and controlling network remotely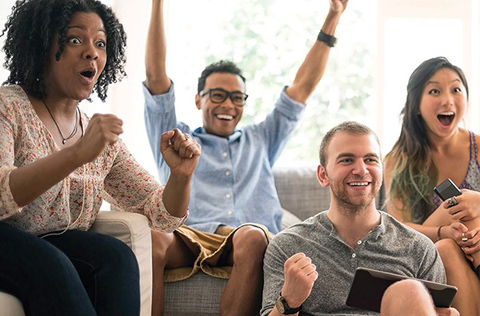 Next-Gen AC Delivers Powerful Wi-Fi to Multiple Users and Devices
In today's data-intensive multimedia environments, increasing number of households require a router that can support simultaneous high-speed connections to multiple devices. MU-MIMO builds on new technology to deliver a higher overall throughput. The result is a fast, fairly distributed connection across all devices, so devices won't have to compete for bandwidth.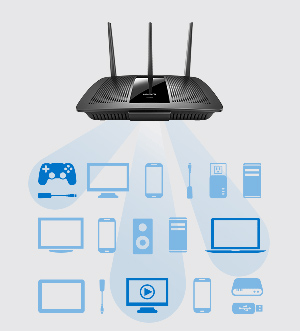 Enjoy Combined Wi-Fi Speeds up to 1.9 Gbps
The Linksys MAX-STREAM AC1900 MU-MIMO Gigabit Router (EA7500) is ideal for medium-sized households running simultaneous high-bandwidth Wi-Fi applications, such as HD video streaming, online gaming, and much more. Dual 2.4 GHz and 5 GHz bands deliver combined speeds of up to 1.9 Gbps--up to twice the speed of non-MU-MIMO routers.* Users can manually assign high- and low-bandwidth data streams to the 5 GHz or 2.4 GHz bands for optimal speed and performance.
The MAX-STREAM AC1900 Gigabit router uses MU-MIMO technology to ensure uninterrupted simultaneous Wi-Fi connections to up to 12+ devices. This wireless-AC router lets you stream UHD video on a 4K TV, download large files onto your tablet, and perform other data-intensive tasks simultaneously without experiencing latency.
Faster Performance with 3x3 Wireless-AC Technology
3x3 Wireless-AC technology delivers three simultaneous data streams for faster performance, so you can quickly download large files, view HD movies, and play games online without experiencing annoying lag or buffering.
Four Gigabit Ethernet Ports and USB 3.0 for External Wired Connections
For expedient networking, the router features four Gigabit Ethernet ports that offer 10x faster speeds than Fast Ethernet. USB 2.0 and 3.0 ports allow you to add external storage and other devices for sharing content across your network.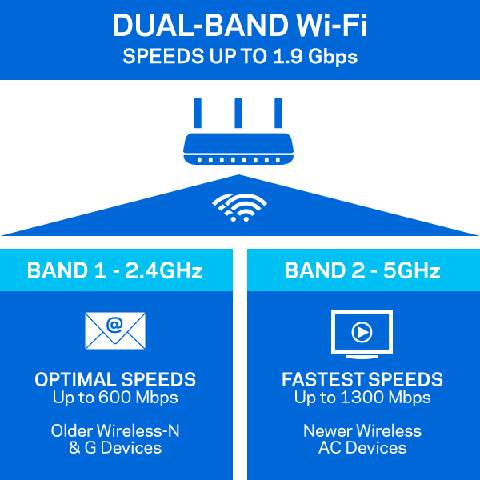 1.4 GHz Dual Core Processor for Blazing-Fast Speeds
The 1.4 GHz dual core processor of the MAX-STREAM AC1900 delivers the blazing-fast speeds you need for lag-free gaming, movie streaming, and mobile device use.
Beamforming Technology Focuses Wi-Fi Signal to Each Device
The Linksys AC MU-MIMO router uses beamforming technology to directly focus the Wi-Fi signal to each device rather than simply sending out transmission in a general direction. This results in faster network speeds, better Wi-Fi range, reduced interference from other devices, and stronger Wi-Fi connections.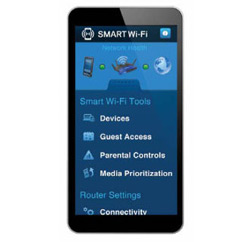 Smart Wi-Fi Software with Network Map for Greater Network Control
With Linksys Smart Wi-Fi software, you can monitor and control your home network at any time, wherever you are. For example, Smart Wi-Fi allows you to restrict Internet access at certain times of the day with parental controls. It also allows you to create unique Wi-Fi passwords for your guests, monitor and add devices on your home network, and check upload and download speeds. In addition, this software allows you to prioritize which devices on your network get the most bandwidth. This enables you to reduce lag times and buffering when you're streaming media or playing online games.
The MAX-STREAM AC1900 integrates Network Map, which provides a visual overview of your network, allowing you to see all devices on your network, view their online status and signal strength, and measure how much bandwidth they're using at any time.
Easy Setup without a CD
Getting the MAX-STREAM AC1900 up and running is simple. Just plug the router into a power source, connect it to your Internet modem and your computer or laptop, connect to the Linksys secure network shown as in the quick start guide, and follow the instructions. No installation CD is required.
System Requirements
For router setup and Linksys Smart Wi-Fi access: Latest versions of Google Chrome, Firefox, Safari (for Mac or iPad), Microsoft Edge, or Internet Explorer versions 8 or newer. For printer sharing and user documentation:
PC: Wi-Fi enabled with CD or DVD drive, Windows XP SP3, Windows Vista SP1 or later, Windows 7, Windows 8, or Windows 10.
Mac: Wi-Fi enabled with CD or DVD drive, Mac OS X Leopard v10.5.8 or later, Snow Leopard v10.6.1 or later, Lion v10.7, Mountain Lion v10.8, Mavericks v10.9, or Yosemite v10.10.
Package Contents
Linksys MAX-STREAM AC1900 MU-MIMO Gigabit Router (EA7500), quick start guide, three antennas, Ethernet cable, power adapter, and CD-ROM with documentation.